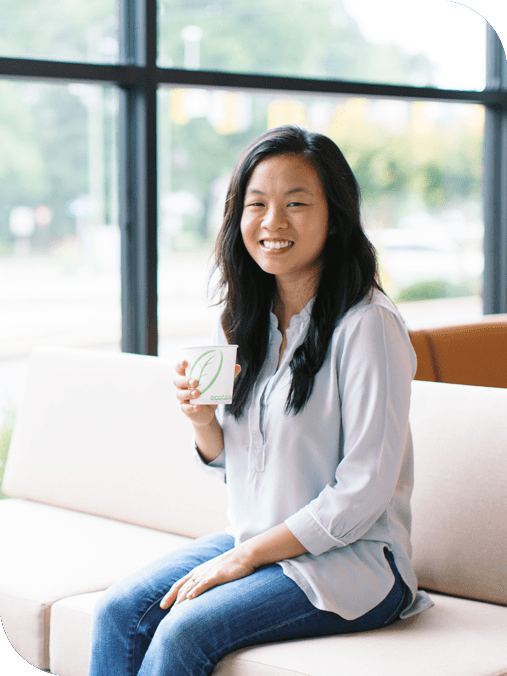 Affordable Dental Implants in Richmond, VA
Are Dental Implants Right for Me?
Implants are posts (metal "roots") that are surgically placed in your jaw, where they function as a sturdy anchor for replacement teeth.
They are made of titanium (a strong, lightweight metal) and other materials that are accepted by your body. Many people choose implants to replace a single tooth, several teeth, or to support a full set of dentures.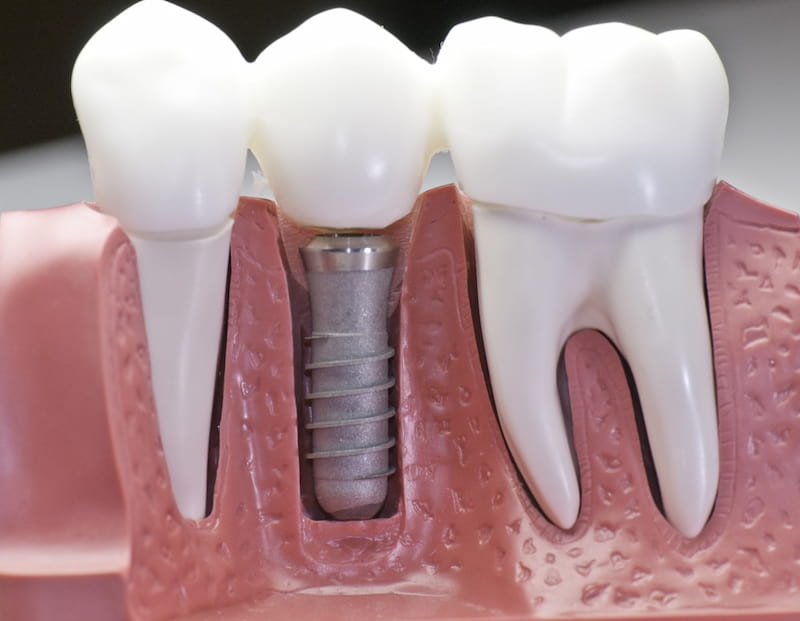 REPLACING A MISSING TOOTH
Advantages and Disadvantages of Implants
Advantages
An implant is the most similar to a natural tooth and often feels more comfortable.
Nearby teeth remain unchanged and do not have to be involved in the placement procedure.
They are a good value because they can last a lifetime with good care.
They may help prevent shrinkage of the jawbone from tooth loss.
They may fit better and be more comfortable than removable partial dentures.
Disadvantages
They require a surgical procedure to place them.
Implant placement may take longer and may require more dental visits than other options.
They may cost more than other treatments that replace missing teeth.
Alternative Options to Dental Implants
Removable Partial Dentures: A removable partial denture usually has replacement teeth fixed to a metal or plastic base that matches the color of your gums.
Fixed Bridges: A fixed bridge is a restoration that is permanently cemented into place on natural teeth surrounding one or more missing teeth.
To read more about the differences between partial dentures and bridges, check out our blog post on the topic.
What to Expect With the Dental Implant Process
Common dental implant questions are, "How long does a dental implant procedure take?" and "What are the dental implant procedure steps?"
The dental implant procedure timeline can vary from patient to patient. If you have a decayed tooth still in place, this will require extraction and bone grafting to ensure your jaw is strong enough before the dental implant procedure.
But once any decayed teeth are removed, and the bone graft has healed, there's a three-step dental implant process: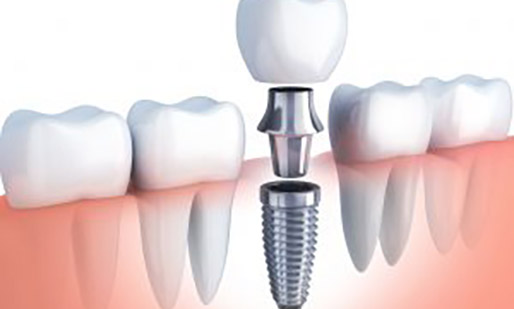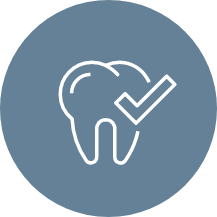 Appointment #1: Placement of Implant Body
The first step of the dental implant process is to drill into your jaw bone and place the implant body (this sounds worse than it really feels). 
During this procedure, you'll receive a local anesthetic and/or another sedative to ensure the procedure is as pain-free as possible.
This initial appointment usually takes 90 minutes.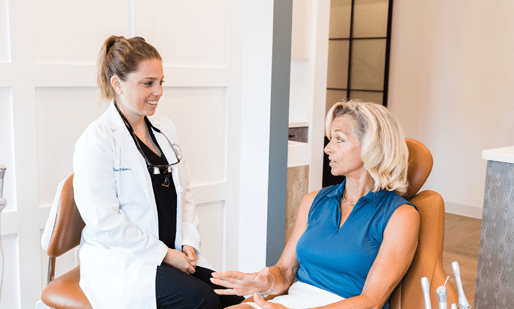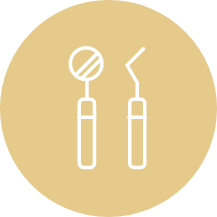 Appointment #2: Post-op Check-up and Assessment
After four weeks, you'll return for a post-op visit to make sure that everything is healing properly.
If your mouth is recovering well and there aren't any major issues, your dentist will schedule you for the final appointment in three months. 
This post-op check-up usually only lasts about 30 minutes.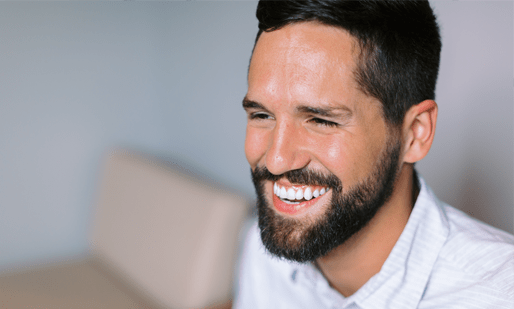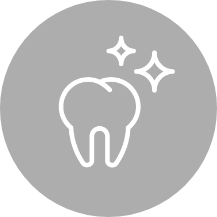 Appointment #3: Custom Abutment/Implant Crown
After another three months of healing, your mouth will be ready to receive the final product—your custom implant crown/tooth replacement.
Your dentist will place an abutment (think of it like a screw head) over the implant. Once the abutment is secure, they'll fix your fake tooth onto the abutment.
This final appointment takes around 60 minutes from start to finish.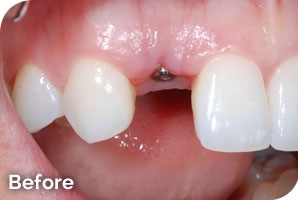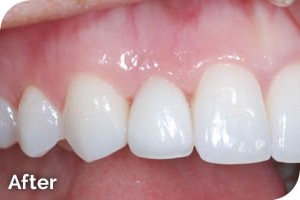 Frequently Asked Dental Implant Questions
Are you wondering "How much do dental implants cost in Richmond, VA?" or "Are dental implants a good idea?" Here are answers to these and other top questions regarding dental implants.
Why Should I Get Dental Implants?
Dental implants are small, titanium posts that dentists place in your jaw. One of the greatest advantages of dental implants is they function the closest to a natural tooth and will likely never need to be replaced (unlike other dental options). 
So, if you have missing teeth and are thinking about replacing them, then dental implants are one of the best options.
Is a Dental Implant Safe?
Yes, a dental implant is completely safe.
Dentists mostly use titanium and zirconium to make implants. The main reasons for dental implants being made of these materials are that they're strong and compatible with the human body.
The dental implant procedure is safe and patients rarely experience complications.
How Much Do Dental Implants Cost in Richmond, VA?
A dental implant can cost anywhere from $1,000 – $5,000. However, there are a few factors that can affect the price.  
The cost of dental implants may vary if you need an extraction and bone grafting on top of the dental implant. 
Additionally, you'll want to check with your insurance before you get a dental implant. Some insurance may cover some or all of the procedure.
What Are the Advantages of Dental Implants?
Dental implants provide many advantages for those who decide to get them:
Your biting function will mirror a regular tooth – far superior to any other dental treatment

They won't need to be replaced (If your gums are taken care of)
If you want a very effective way to replace missing teeth, dental implants are the way to go.
What's the Tooth Implant Success Rate?
The success rate for a dental implant procedure is very high, around 98-99% when done by a  trained dentist.
Since dental implants are also very strong and durable, as long as your gums are taken care of through brushing and flossing, you shouldn't have to replace your implant.
Schedule an Appointment for Dental Implants in Richmond, VA Today
At Northside Dental Co, we provide professional and affordable dental implants for anyone looking to replace missing teeth or for more secure dentures. Our trained staff and dentists will ensure that your procedure goes smoothly from start to finish. Give us a call at 804-767-3410 or schedule an appointment online today.